Erika in Germany
Paul outside bike rally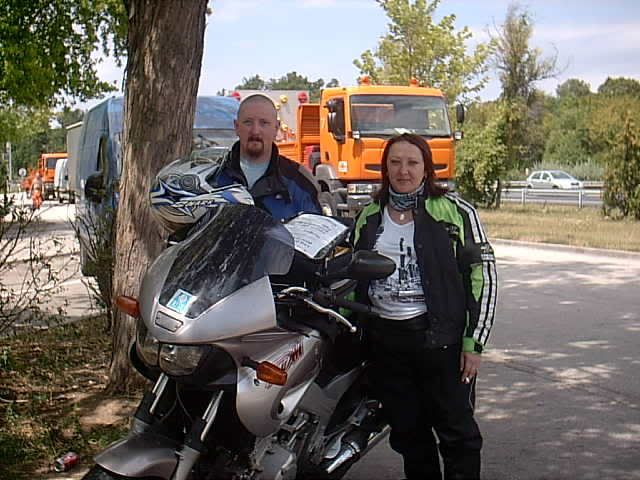 Nearly there! A welcome break in Hungary en route
The track to our house was treacherous, being very dry and covered in dirt and gravel.
We met up with Erika's brother, Joe and his family on Tuesday who'd been staying in Eger and travelled over to Sirok to make a list of fittings that we needed to buy ready for my next trip back in a couple of weeks.
Erika was seriously considering flying home rather than returning on the bike as the trip had been too much for her. We looked into bike prices and decided to put my bike up for sale in Hungary as it was worth more over there than in England. On Thursday we bought a tent and pitched it at the bike rally in Sirok. We stayed overnight there on Friday and Saturday and put a "for sale" sign on the bike. It sold within 3 hours! There were some great bands playing and good, cheap food and drink.
On Monday we exchanged money and documents with Tomas, the buyer of the bike :o( . Tuesday we caught the bus to Budapest and then flew back to England. It has been an eventful trip, enjoyable, relaxing and stressful all at the same time.lol.
Next year we should be living about a mile from the bike rally so it will be a lot easier to visit.
Not long to go now before we leave.